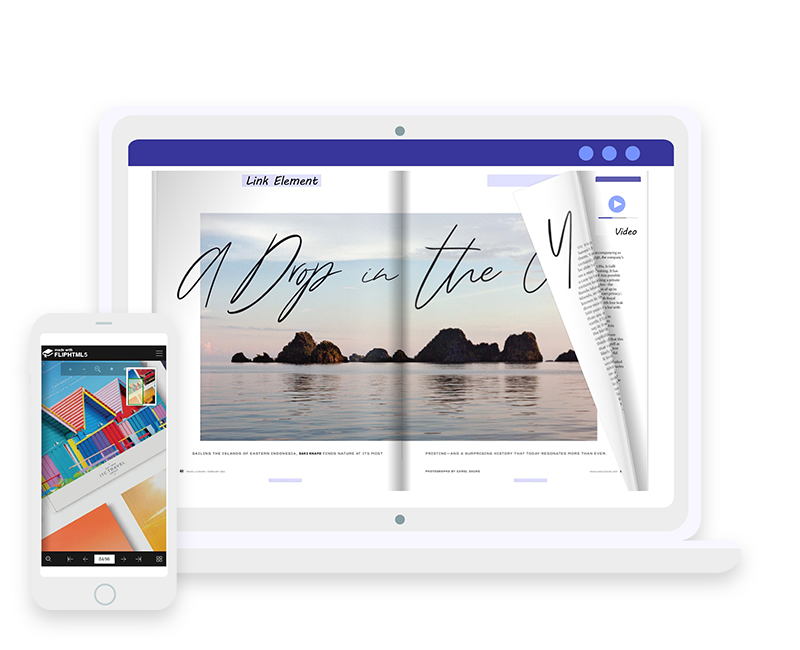 FlipHTML5 offers a world-class desktop publishing program
Advancements in technology have brought about an evolution in the publishing industry. Traditional publishers no longer have carte blanche to decide what content to publish, as self-publishing has become more popular. Content creators simply need access to good quality desktop publishing program and they can produce publications that meet the highest standards, effortlessly combining text, graphics and multimedia. FlipHTML5 offers such a desktop publishing program. It is easy to use and requires no technical skills. Even better, it can be used for free.
"The design of FlipHTML5 makes it a perfect desktop publishing program," says Anna Lee, designer of FlipHTML5.
This desktop publishing program automatically converts static PDF files into dynamic flipbooks in HTML5 format. It offers various templates, themes, and scenes to beautify the posts along with several toolbar options. Flipbooks look a lot like traditional books with page flipping effects and sound. Book creators can enable zoom, search, and download functions on the book toolbar, as well as allow readers to print the book. Clickable tables of contents and thumbnails make navigation easy. Readers can tap the corners of pages to move between pages or use the auto-flip feature.
Multimedia is a growing trend with today's audience. FlipHTML5's desktop publishing program allows users to embed images, audio, videos (including YouTube and Vimeo videos), animations, hotspots, and more. in their publications. Readers will benefit from an immersive experience. Sales-oriented posts will more easily convert potential customers with hyperlinks to online stores and product pages.
Free cloud storage and web hosting are available with this desktop publishing program. Users can even have a custom domain on their flipbooks instead of FlipHTML5. Readers can subscribe to their favorite publications and be notified when new content is published. A virtual library attractively displays multiple publications categorized by subject, publication date, etc.
For writers looking for a viable option to sell their books, FlipHTML5's desktop publishing program also functions as a digital publishing site. The e-commerce feature allows writers to sell their books commission-free. They decide their prices and currency and all profits go directly to their specified PayPal account. The desktop publishing program also offers SEO options that increase book rankings on search engines. Google Analytics can be integrated so that users can get real-time statistics on the performance of their posts.
Get more information about the desktop publishing program at FlipHTML5.
About FlipHTML5
FlipHTML5 Software Co.Ltd. is one of the world's leading providers of digital publishing software. For many years they have focused on researching and developing an outstanding line of electronic publishing software for users around the world. Also, they offer customized solutions for publishers in different industries.